Submitted by yelvington on April 28, 2009 - 1:38pm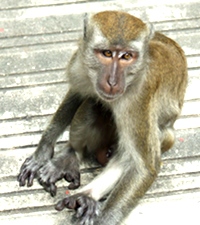 I have a theory. Maybe some grad student will test this. My theory is that you can take a random story from a newspaper, and a random person from the community, put them together, and have about a 50 percent chance that the person won't understand it.
If you've been following an issue, the latest story is likely to make sense. If you haven't been following along, the latest incremental nugget may make as much sense as a macaque. It's a data point without context. A fact without meaning. And that's our problem. For a large and growing segment of the community, the paper is full of monkey screech. We might get the emotional context now and then, but mostly it's a puzzle.
You can see how we got here. Newsprint and broadcast air time are scarce. Stories must be short and to the point. The bulletin, which is easy to write, crowds out the explainer, which is hard. Journalists use terms such as insurgency and talk about analysts and use other code words that are full of meaning for those inside the circle, and meaningless for those outside.
As journalism has to compete with more and more glittery fun from the world of programmed entertainment and YouTube videos, the audience wanders away from the continuing story, and loses the ability to understand the daily report.
I am thinking about this because tomorrow morning I'm off to Washington for a "Future of Context" discussion put together by Matt Thompson for the Reynolds Journalism Institute. It's timely. We have no shortage of crises to face in journalism right now -- finance, business models, technological transformation of the media landscape, rise of the amateur, decline of the institution, you name it. Add context to that list.
One of the benefits of the Internet is measurability. I don't have to guess about the readership of a story. I don't have to guess about reach and frequency. I have data that, under duress, can be persuaded to reveal truth. Some of the truths that I have wrung out of this data are troubling.
One that I've mentioned many times in the past: On the Internet, there are no average readers, but there are clear groups. One very large group visits a news site perhaps once or twice in a month, looking for something specific and then moving on. Another group, distressingly small, behaves more like the imaginary daily newspaper reader of the past, visiting not only daily but perhaps multiple times a day. For the second group, incremental stories may make a great deal of sense. For the first group, most conventional journalism is wasted.
We need to move beyond monkey screech. I have some ideas about that, and so do some other folks. I look forward to the conversation.